Update: Hurricane Sam was classified as Category 4 on Saturday 25 at 18 p.m. UTC. This does not call into question the data in this article.
This Saturday, September 25 at 12 p.m. UTC, the NHC classified thehurricane SAM in category 3 (major hurricane). This ranking is not a surprise and it was expected since yesterday and its phase of rapid intensification. It is a compact system which moves very slowly (9 km / h towards the west over the last 3 hours).
Find the route information from Météo Tropicale on thehurricane SAM. See you this Saturday 25 at 12:30 p.m. (Martinique time) on my Twitch channel for a live on Sam. Otherwise, you can come and discuss this system with me on Twitter.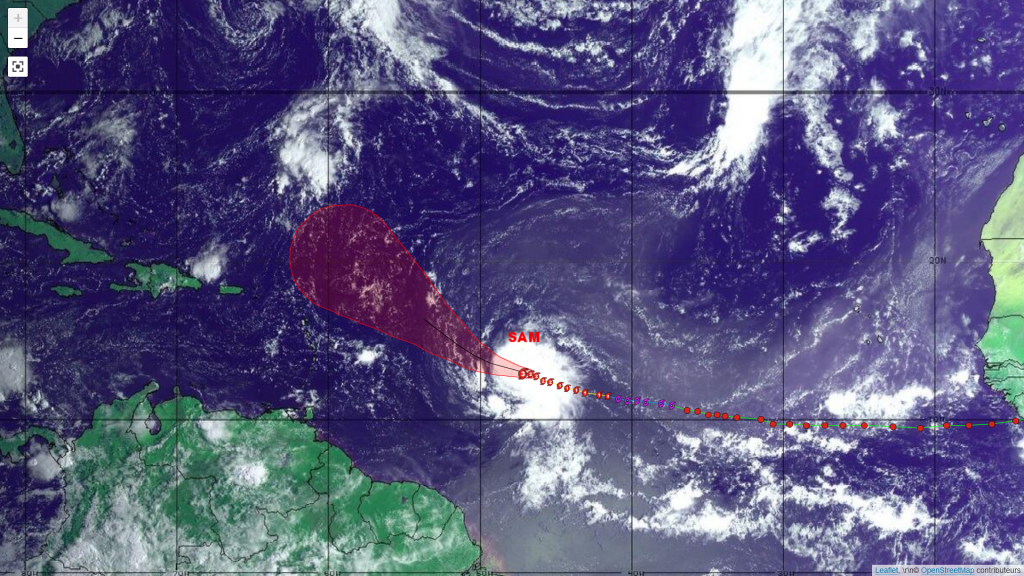 For 3 days the NHC maintains a stable trajectory forecast, with a route close to the west until Sunday then an inflection of the trajectory marked north-west thereafter, allowing it to pass north of the West Indies.
However, the slowness of Sam's movement subjects this trajectory forecast to a still significant uncertainty regarding the longitude of the arc which it should reach in more than 5 days.
Regarding the intensity the NHC provides for reinforcement up to category 4 (120 kt / 222 km / h) for the next three days then a slight weakening then for a return to category 3.
Météo France AG does not publish wind forecasts for a period of 5 days or more which makes it impossible to anticipate the situation on the northern islands for the middle of next week. However Météo France publishes a cyclonic bulletin on which you will find various information.
For several years, a consensus has been formed among the main forecasting models for a passage well off the West Indies. The only model that still does not follow this consensus, the European model ECMWF continues to hesitate for a trajectory more or less close to the Northern Islands (Saint-Martin et Saint-Barthelemy).
THEECMWF being one of the 2 major models with the American model GFS, its trajectory forecast for theHurricane Sam casts a slight doubt on the consensus formed by the other models.
LHurricane Sam is still more than 5 days from the longitude of the West Indies. The NHC and a strong consensus of the forecast models foresee for the moment a passage very offshore of the Northern Islands. Only the European model ECMWF retains a hesitation and sometimes continues on certain runs to make Sam pass close to Saint-Martin et St. Barts.
Despite the still a little distant forecast deadline for the arc, the current consensus for an inflection of the trajectory to the NW from tomorrow allows to be very optimistic for the northern islands and it would take a major and totally unforeseen change in pressure conditions aloft to thwart this forecast.
Despite everything, as always in the case of a powerful system facing the West Indies, we must remain vigilant.


Image credit: Tropical tidbits NHC et UW-CIMSS