Tropical weather - Analysis of cyclonic risk in the Atlantic
There is currently 1 tropical weather system monitored by the NHC on the Atlantic basin:
INVEST 90L located on 30.5 N at -81 W (86 km SE of US -> Georgia). Intensity is 25

kts

and the pressure of 1010

hPa

. The risk of reinforcement is 30% at 48 hours and 30% at 5 days.
Disturbances and cyclones monitored in the Atlantic
The map is interactive, you can click to get information on weather systems.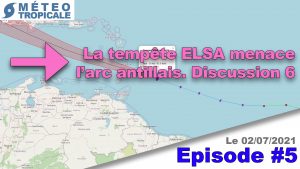 4.83 / 5 (64) Tropical storm ELSA is now in the immediate vicinity of the West Indies, at the level of the island of Barbados. The first gusts between 40 and 50
Read more "
Tropical weather situation in the Atlantic
Lightning strikes and rainfalls radar
Latest forecast for the hurricane season
Forecast
April 2021
Forecast
July 2021
Prev
August 2021
evol.
Moy
2020
2019
2018
Nb of named storms
17
20
-
14.4
30
18
15
Of stormy days
80
90
-
69.4
118
68
87
No. of hurricanes
8
9
-
7.2
13
6
8
No. of hurricane days
35
40
-
27
35
23
26
No. of major hurricanes
4
4
-
3.2
6
3
2
No. of major hurricane days
9
9
-
7.4
9
10
5
Cumulative energy (ACE)
150
160
-
123
180
142
129

The Tropical Weather website
Tropical weather offers you a lot of information on the weather in West Indies and on the cyclonic risk in the Atlantic and the Caribbean. It automatically compiles data from many sources in real time (Meteo France, NHC, NOAA … Etc) and created an automated analysis of the weather situation, current cyclones and forecasts. It also displays satellite images, rainfalls radars and lightning strike radar.
On the dashboard of each territory, a summary of all the weather data gives you a quick and precise view of the current situation, the last hours and the 5-day forecast. An analysis of the current cyclones and the risk is also present.
You will also find there the statistics of all cyclones in the Atlantic since 1950 as well as those of the islands or territories affected by the risk of cyclones in the Atlantic basin (Atlantic Ocean, Caribbean Sea and Gulf of Mexico). The French islands (Martinique, Guadeloupe, Saint-Martin et Saint-Barthelemy) are the subject of further analysis.
Finally, throughout the hurricane season and when a risk is identified, you will find expert analyzes.
The Météo Tropicale website is for LEISURE use only. It must never be used for decisions to protect property and people in the event of a meteorological risk. Only official organizations (Météo France, Préfecture, etc.) are authorized to provide specific safety information as well as the associated levels of Watching. When a risk is identified, you must follow the instructions of these organizations for your safety, that of those around you and that of your property.